Brett Rheeder
Freeride Royalty
Brett Rheeder known for his wild air-grabbing skills has been labeled "Freeride Royalty" by Dirt Magazine. Born in 1993, this Mount Albert, Ontario native is the Michael Jordan of the Freeride industry. His hard work and dedication to his craft does not go unnoticed. His precision on every run shows how much focus he puts into preparing. From urban mountain biking to gnarly jumps in the country, his web videos are some of the most viewed for Fox. The crowd vibe when Rheeder's name is called to start his Redbull Joyride sesh is remarkable. We are witnessing greatness.
Read more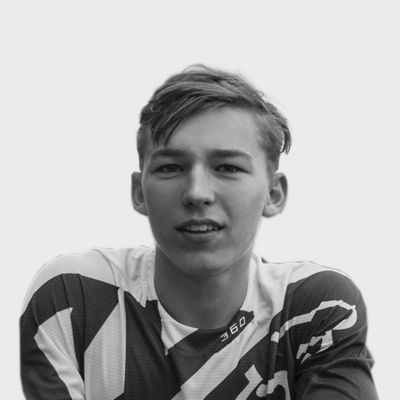 Austin Forkner started his racing motocross career in 2003 at the age of five. In his first year racing, he won the Show-Me Fall Series. Later on, he continued racing in his home state until 2005, when he entered his first amateur national event at Ponca City, finishing top 10 in either 50cc 7-8 classes. Racing and being competitive "runs" in Austin's veins. His father is a smooth motocross rider, and his mother is a barrel racer on horses, making it only natural for them to support Austin. His parents were Austin's primary support through 2010. In that same year, Austin was the only youth rider to win TWO National Titles at Loretta's. Since his first AMA National title at Loretta's, Austin has been on the Kawasaki Team Green bikes as a factory supported rider. In 2015, Austin set his sights on the pro ranks and made a plan on how he would transition to professional racing. He made his last performance as an amateur racer at the Loretta Lynn National Championships in August 2015 with 2 victories. Then he started working on his pro program. In September, in his first pro race, he finished 4th behind 3 seasoned veterans of the sport. In January he raced 2 Arenacross races winning the second one in Greensboro. Austin wrapped up his amateur career with wins at Daytona and Freestone.
Read more
NEWS
Rockstar Energy Triple Crown Series MX Tour Round 6 | 7/27/19
Situated alongside the busiest highway in the country, TransCanada Highway, The Riverglade MX Park is only 15km west of Moncton, New Brunswick. The race track catches the eye of passing motorists who often pull over to watch some road-side racing. The track is clay based and with the proper amount of watering and tilling, the corners form long sweeping deep ruts that provide multiple line choices during the race. The high speeds of the track make every jump exciting as riders scrub their way into lower lap times.
This weekend's race in Riverglade was special for the Fox Racing crew as the GDR/Honda team riders made the #MX20 racewear debut along with the global Fox team roster worldwide. The Toys Tech Shed located on-site of the race helped push the brand all week weekend with their Made For Motocross themed pop-up shop.
Carrying both MX Tour red plates into Round 6, the Honda Canada/GDR/Fox Racing team has been building momentum on all fronts; Numerous pole position qualifying, 17 moto wins and 7 overall victories have made the Red Rider team the ones to beat.
Dylan Wright – 250cc Class; 1st place
Undoubtedly the fastest rider in the 250cc class this season, Dylan Wright continues to bring more speed every weekend as the season progresses. Sweeping moto wins on his way to consecutive overall victories, Wright is in command of the championship with only three rounds remaining.
Beginning the race day with the pole position qualifying time, Wright looked as comfortable as ever on the rutted Riverglade track. In Moto 1, Wright battled within the top five bracket but by lap six, made the pass for the lead while recording the fastest lap of the moto by any racer. In Moto 2, Wright was in the early lead and checked out from everyone for the clean sweep victory for his sixth moto win in a row and his third overall victory in a row.
Mike Alessi – 450cc Class; 1st place
On pace to close in on the 450cc Championship, Mike Alessi has been bar to bar with the race winners and current points leader each moto since resuming racing in the East. Paired with his impeccable starting technique, Alessi has been starting up front and finishing up front each weekend making him the biggest wild card as the series closes.
Qualifying in the pole position, Alessi had first gate pick to line up his patented holeshot for Moto 1. After rounding the first corner, Alessi checked out from the rest of the riders and led every lap for the win. In Moto 2, Alessi nailed another holeshot and would again start to check out. Teammate and current points leader, Facciotti was determined to close the gap and not let Mike win that easy, but Alessi would hold him off on the last lap taking the win. This victory earned Alessi his second Overall Victory sweep of the season and moves him into a strong second place in series points.
Colton Facciotti – 450cc Class; 2nd place
Consistency wins Championships and Colton Facciotti is applying that yet again. Steadily winning motos and quietly earning Overall Victories, Facciotti has been carrying the 450cc MX Tour red plate for fourteen weekends in a row and doesn't appear to be showing any signs of letting it go before the end of 2019.
Qualifying in second place behind his teammate, Colton Facciotti was riding steady and waiting for his moments to push out of his comfort zones. In Moto 1, Facciotti started in fourth place and remained there unchallenged for the entire race until being gifted a position due to another riders mechanical and finished the race in third place. In Moto 2, Facciotti started in third place and rode patiently there the entire race until taking advantage of a rider going down in front of him and advancing into second place. Facciotti put on a charge to narrow down the time differential on the leader, but wasn't able to make the pass with only lap left remaining and settled for a second place overall.
Next Race:
The MX Tour now turns around and heads to the Francophone province of Quebec. The Deschambault Circuit is located 30 minutes west of Quebec City in Portneuf, QC. The track is a sand based soil and has natural elevation which creates some deep sand whoops, up and down the track. The Honda Canada/GDR/Fox Racing team now has command of both 250cc and 450cc Championships with only two MX Tour races remaining.
250cc Round 6 Results:
1st – Dylan Wright (1-1)
2nd – Jess Pettis (2-2)
3rd – Marshal Weltin (5-3)
4th – Tanner Ward (3-5)
5th – Tyler Medaglia (6-4)
450cc Round 5 Results:
1st – Mike Alessi (1-1)
2nd – Colton Facciotti (3-2)
3rd – Phil Nicoletti (2-4)
4th – Cole Thompson (4-3)
5th – Cade Clason (6-5)
250cc Series Points:
1st – Dylan Wright; 3-2-6-1-1-1 (303 pts)
2nd – Jess Pettis; 7-3-11-2-2-2 (264 pts)
3rd – Tyler Medaglia; 6-5-2-4-6-5 (240 pts)
4th – Luke Renzland; 2-10-1-3-3-9 (239 pts)
5th– Marshal Weltin; 4-1-3-5-11-3 (239 pts)
450cc Series Points:
1st – Colton Facciotti; 2-1-2-4-1-2 (294 pts)
2nd – Mike Alessi; 4-4-9-1-4-1 (273 pts)
3rd – Phil Nicoletti; 3-2-6-2-13-3 (254 pts)
4tb – Cole Thompson; 1-6-11-3-5-4 (252 pts)
5th – Shawn Maffenbeier; 5-3-8-5-3-0 (194 pts)
Read more
Loic Bruni & Loris Vergier Dominate Andorra | 7/8/19
Fox team riders took the top two spots after some wild racing on the ultra-dry Vallnord World Cup track. The competition was incredibly close with the top three riders separated by only 1.2 seconds. In the end, Loic Bruni threw down an incredible run to beat his French compatriot, Loris Vergier, by just four-tenths of a second! Fox rider Laurie Greenland made some small mistakes but still had the speed to finish eighth – his second top 10 of the season! No rest for the crew as they head to the Legendary slopes Les Gets, France next weekend. Congratulations to Loic, Loris and the rest of the Fox MTB team. No rest for the crew as they head to the Legendary slopes of Les Gets, France next weekend
Vallnord Race Results
Men's Results:
1st – Loic Bruni (4:11.055)
2nd – Loris Vergier (+0.423)
3rd – Troy Brosnan (+1.202)
4th – Amaury Pierron (+2.948)
5th – Danny Hart (+5.595)
6th – Brook MacDonald (+6.866)
7th – David Trummer (+6.979)
8th – Remi Thirion (+7.989)
9th – Laurie Greenland (+8.383)
10th – Jack Moir (+9.260)
Women's Results:
1st – Rachel Atherton (5:00.622)
2nd – Marine Cabirou (+2.497)
3th – Tracey Hannah (+7.131)
4th – Emilie Siegenthaler (+12.859)
5th – Eleonora Farina (+15.098)
6th – Kate Weatherly (+18.497)
7th – Veronika Widmann (+18.538)
8th – Mariana Salazar (+20.011)
9th – Nina Hoffmann (+20.646)
10th – Sandra Rubesam +26.707
For raceday UCI Downhill coverage, follow Fox Racing on Instagram @foxmtb
Read more
FOX RACING® IRELAND - OFFICIAL WEBSITE
For over 4 decades now, Fox Racing® remains the global leader in Motocross gear, Mountain Bike clothing and Moto-inspired lifestyle clothing for men, women and youth. Fox is the apparel choice of action sports athletes with products that combine innovation and style, rooted in the brand's original competitive motocross spirit. We are constantly pushing into the future, never settling for anything less than greatness because our goal is to elevate performance and forge unforgettable experiences. Fox collection is designed with the express purpose of helping you do what you love. Whether you spend your days riding your mountain bike or racing motocross, get out there and chase the feeling. We are made for inspirations and for possibilities, for fast starts and long journeys, for challengers and for champions. Fox is made for you.